CELEBRATE NATIONAL ROTISSERIE CHICKEN DAY WITH THIS AMAZING 10-IN-1 AIR FRYER
One delighted customer raved 'You really can't go wrong investing in this Tower air fryer!'

Air Fryers have fast become one of the most popular appliances in the UK, with families across the nation switching from traditional cooking methods to save energy and time in the kitchen.

Whilst it is well known that an air fryer will let you cook delicious crispy chips, succulent steaks & fried vegetables, did you know that you can cook a whole chicken rotisserie style in a Tower Air Fryer Oven?
Tower, one of the leading SDA brands in the UK, have an excellent range of air fryers that allow you to have delicious rotisserie style chicken in little under an hour. With a built-in rotisserie function, the T17076 Xpress Combo Pro 11L 10-in-1 Air Fryer Oven allows you to cook a whole chicken with ease, providing much greater variety at mealtimes.

Thousands of recipes online via Pinterest, various cookery sites and even TikTok offer unique and interesting ways to get the most out of your air fryer, with a plethora of different ideas to create the perfect rotisserie chicken. With options ranging from BBQ, Cajun & even Tandoori style chicken, you are sure to find something that suits your tastes.

Perfect for a family roast dinner or dinner party, there are also a number of recipes that will show you how to make use of your leftovers, ensuring nothing goes to waste. TikTok videos detailing how to create flavoursome curries, chilli dishes and healthy salads utilising rotisserie chicken garner upwards of 100K views at a time, so you can see how easy it is to create multiple delicious meals from just an hours cooking time.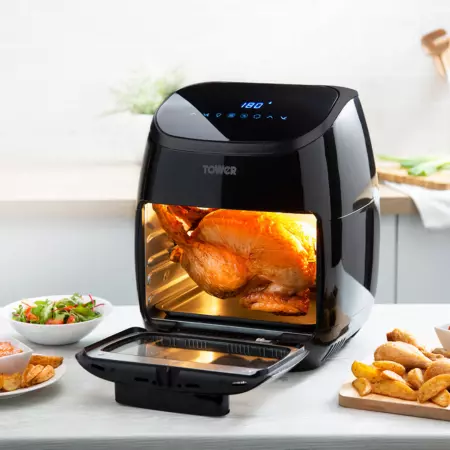 Create delicious rotisserie chicken in under an hour using Tower's 11L Xpress Combo 10-in-1 Air Fryer Oven
While there are various Tower's Xpress Combo Pro 11L Air Fryer Oven is perfect for this as the generous 11L capacity will comfortably accommodate any joint of meat so it is perfect for creating large portions or full family meals in one go. The rotisserie spit and handle ensure you can cook a whole chicken or meat joint rotisserie style in under an hour, perfect for feeding the entire family.

Vortx air circulation technology ensures hot air circulates around the chamber for more thorough and even cooking, whilst the Vizion viewing window on the front of the oven lets you see when your food is ready without needing to open the drawer. The end result? Delicious moist chicken with crispy skin.

Reviews for the appliance have been glowing, with a number of five star reviews showing just how much the air fryer oven has changed cooking habits. One customer described claimed the 'rotisserie function in particular is excellent' whilst another thrilled costumer described it as 'Easy to use, excellent results every time and cost efficient.'

With so many cooking options available now is the time to act. Just visit the Tower website to purchase the Xpress Combo Pro 11L Air Fryer Oven or view the rest of the Xpress range to expand your cooking capabilities.


Check out the full range of Air Fryers here. If you are interested in further information about Tower Air Fryers, why not follow us on Facebook, Instagram or TikTok or to talk with fellow Tower Air Fryer owners why not join the Tower Air Frying Group on Facebook.