TOP 10 AIR FRYER TIPS AND TRICKS TO GET YOU STARTED

So you've decided to invest in an air fryer. It might look a little daunting at first, but don't worry – it's going to revolutionise the way you cook and you'll soon be wondering how you ever lived without it. We've put together the ultimate guide for cooking with the all-in-one kitchen appliance that's best known for quick meal times and healthier eating.
WHAT IS THE BEST AIR FRYER FOR ME?

Don't just jump in and grab the first one you see. Do some research to make sure you find the air fryer that suits your needs .Whilst it might be tempting to grab one with all the bells and whistles, think about your lifestyle. If you are running a busy family home, naturally one with a larger capacity might be more suitable. But what if you're at university or have just moved into your own home? Maybe something a little smaller and more compact would be better.
Have a look around online and in-store as they range from a compact 2 litre to a whopping 22L air fryer oven. Also check out our tips on finding the right air fryer for you


PREHEAT THE AIR FRYER BEFORE COOKING
Just like a regular oven, air fryers need some time to heat-up before you start cooking. You won't be waiting around for as long as usual though. Air fryers only take 3 minutes to heat-up to the perfect temperature to get those deliciously crispy results every time you cook.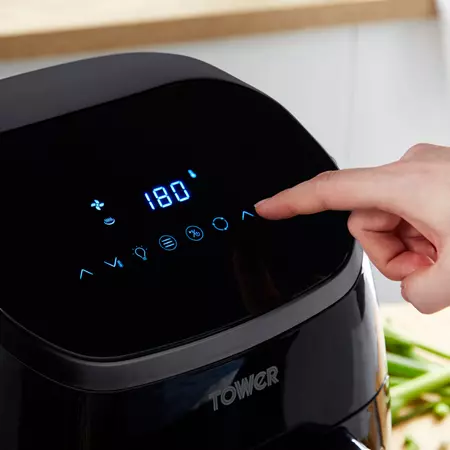 USE ONLY A LITTLE OIL

One big advantage of having an air fryer is its ability to cook your favourite foods using little to no oil, for maximum health benefits and super easy cleaning. To ensure your food doesn't stick to the bottom of the basket, we recommend greasing the surface with a little bit of oil – too much and your food may go soggy.
TOP TIP: Avoid using store-bought spray oil as this may damage the non-stick cooking surface. If you'd rather use spray than grease by hand, then it's best to buy your very own spray bottle and fill up with oil.

KEEP IT CLEAN
Keeping this kitchen staple clean couldn't be easier. Erase the traumatic memories of cleaning the oven and replace them with some super easy tips for cleaning your new air fryer. As most air fryers have removable parts, your air fryer requires a simple wipe clean after every use to keep it working at its best.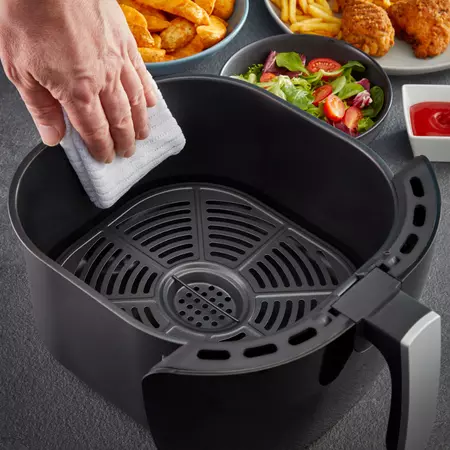 COOK FOOD FROM FROZEN
If air frying wasn't easy enough, you can make meal times with the family even easier by cooking food straight from frozen. Digital air fryers feature several pre-set menus so you can start cooking golden fries, crispy chicken and cheesy pizza at the touch a button. All of this takes the fuss out of cooking, making mealtimes stress free.

DON'T OVERCROWD THE BASKET
There is nothing worse than cooking a batch of food and discovering that half of it is soggy. One HUGE benefit of the air fryer is its love for cooking food evenly. Make sure not to place meats on top of each other or overcrowd the cooking basket as this may lead to uncooked food. Dual basket fryers make this easier as you can cook multiple foods at once, with match functions to ensure everything is ready together.


TRY BAKING YOUR FAVOURITE CAKES
Air fryers aren't just for creating healthy fried foods, they're the ideal companion for family home baking too - whip up a gooey brownie, crisp some classic Italian cannoli, bake spicy cinnamon rolls and more to keep you busy all year round.


DELICIOUSLY CRISPY RESULTS OVER AND OVER AGAIN
If you're interested in batch cooking, then your air fryer will be your new best friend. Instead of microwaves leaving you with soggy, tasteless dishes, you can heat up your prepped meal in your Tower air fryer and achieve deliciously crispy results.
MAKE USE OF THE ACCESSORIES
Take some time out to see what accessories come with each air fryer. Some have rotating aero crispers to ensure that food is thoroughly cooked, whilst others come with more specialized extras. Some models, such as mini-ovens, include spits and handle to cook an extra-crispy chicken 'rotisserie-style' in under an hour, so you can cook up a delicious roast for the whole family without sweating it out in the kitchen all day long.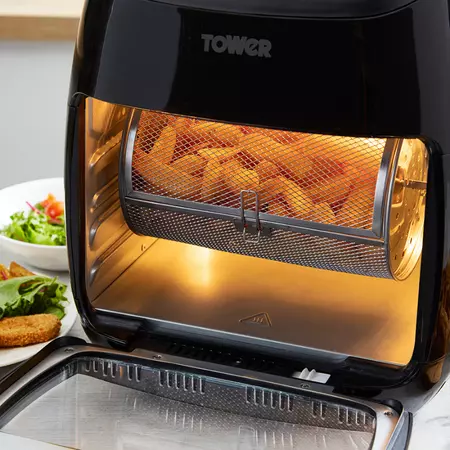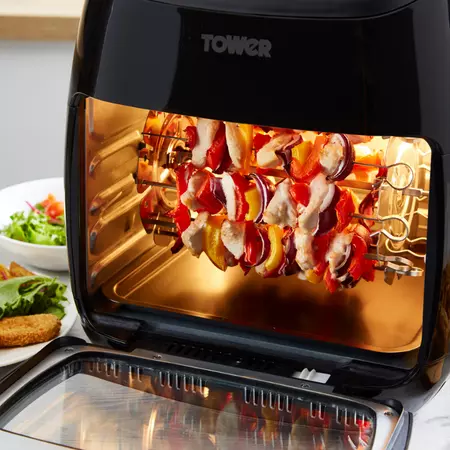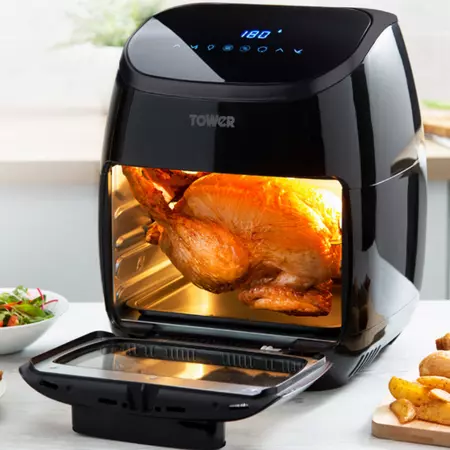 PROTECT YOUR AIR FRYER & ITS NON-STICK SURFACE
So by now you're devising a list of air fryer recipes you're going to cook in your new air fryer, but you're likely to need some additional accessories to keep it performing at its best. Our must-have air fryer accessories include silicone cupcake and waffle moulds to indulge your sweet tooth, tongs and brush for hygienic food prep and serving, and parchment papers to reduce cleaning time after cooking.


Check out the full range of Air Fryers here. If you are interested in further information about Tower Air Fryers, why not follow us on Facebook, Instagram or TikTok or to talk with fellow Tower Air Fryer owners why not join the Tower Air Frying Group on Facebook.